The volume of calls, referrals, and cases dealt with in a CAS agency is staggering. In the year 2007-2008, Ontario's CAS:
Completed 77,089 Investigations
Managed 24,955 Protection Cases
Provided Care to 27,816 Children
Completed 822 Adoptions
CAS agencies need a case management system that will make life easier for case workers and ensure organized service delivery consistent with ministry requirements.
Matrix Case Management Features
Matrix has many case management features to help simplify the management of case files. One of the primary goals of the system is to reduce administrative burden for those managing files and responsible for capturing information. Matrix succeeds in doing so by providing quick and easy real time access to case information and by streamlining the entry of information. Case management features found in Matrix include:
Assigned Files view
Referral Screening
File Searching
Departmental Case view
Case Summaries
Workload Reports
Departmental Workflow
Family Demographics
Document Management
Approval Routing
Case Reminder
Case Alerts
Case Notes
Case Client Time
Case Audits
Case Compliance
Case Reports
Assigned Files View
When you log into Matrix application you are presented with a homepage that lists all of your assigned files. Each file folder displayed represents an assigned file. At a glance it is easy to determine the state of your files due to the colour of the file folder. Additionally, details such as referral dates, file names, recent file assignments, number of required tasks, number of reminders, spectrum code, alerts and after hours coverage worker note notifications are available on each file. This view of assigned files provides a lot of information to the worker in a very organized manner.

Referral Screening
Referrals can be entered by designated agency call screeners or by case workers. Referrals can be linked to existing families or individuals when they already exist in the system. This helps to minimize the amount of data entry required. If the family is new to the agency they are entered as part of the referral and new file numbers and file names are created automatically. Custom fields can also be added to the referral screen by administrators to address unique information collection requirements of an agency. Once necessary records checks are performed the referral is routed to the appropriate department for assignment. Information captured at point of referral is used to automatically populate case forms as required once again minimizing data entry.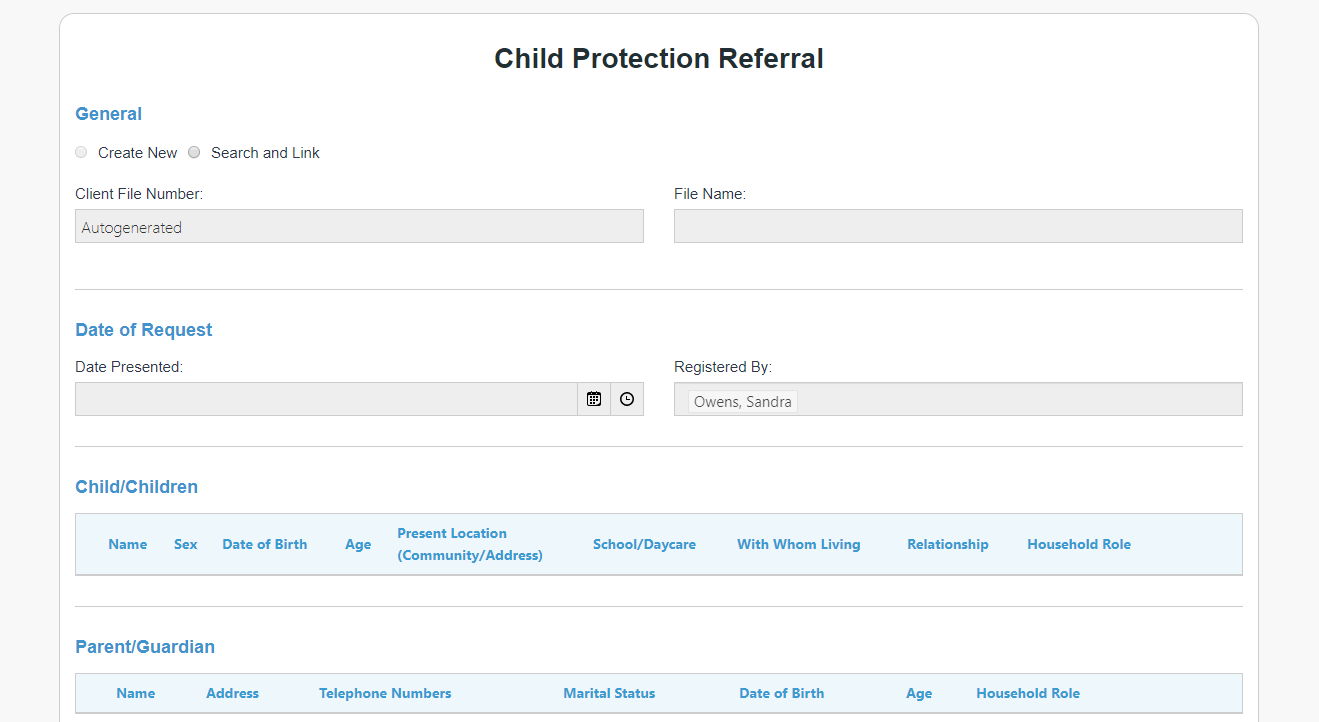 File Searching
Within Matrix, family information is easily located through the use of a wide selection of search criteria and search features. Matrix highlights the relationships between people, families and cases on one easy to understand screen that helps workers to find the information they require quickly and intuitively. For more information on the searching features available in Matrix please see the Search Features section.

Departmental Case View
At any time supervisors can access the Cases screen in Matrix to view all active and newly referred files in the system in real time. The information provides much needed insight and clarity to the department managers. With each file they are able to see the current status, who is assigned, spectrum codes, length of time the file has been open and whether the assigned worker has requested assistance.
Family Demographics
Matrix supports complex family units by allowing individuals to be linked to more than one family. An individual can be considered a primary caregiver in one family, a neighbour in another family and an uncle in a third family. Individuals are only entered into the system once and relationships to other families are defined as needed. This reduces data duplication and ensures information about individuals is kept up to date. For more information please review the Family Demographics section.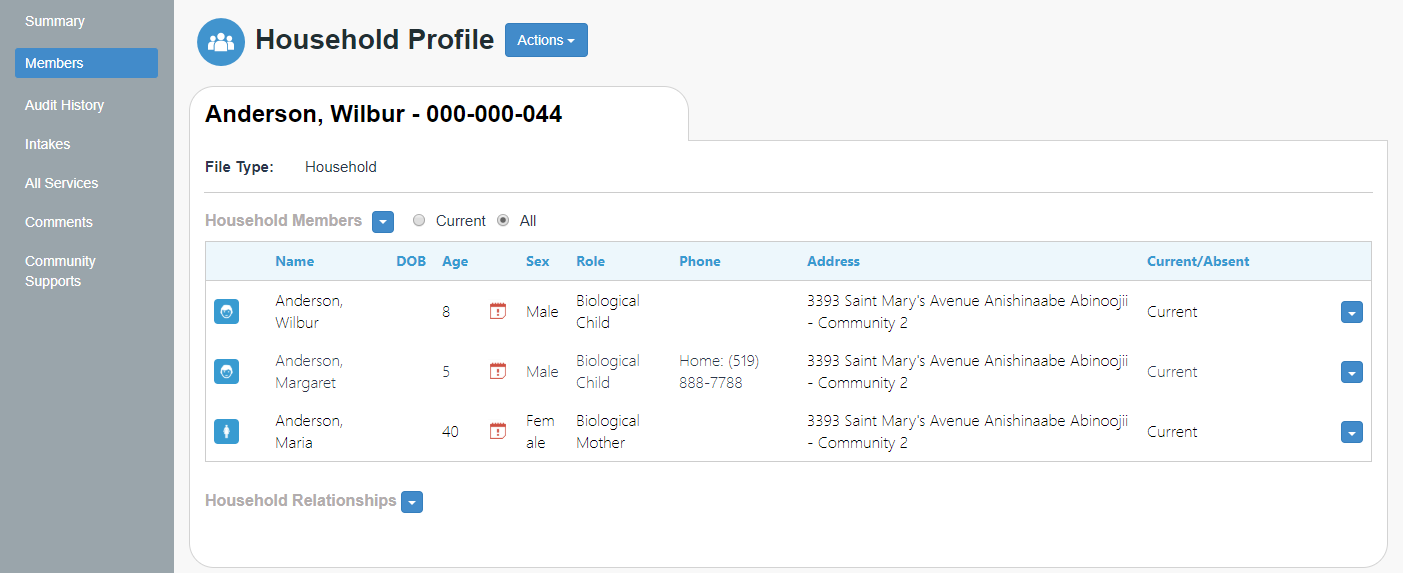 Document Management
Documentation requirements for case files is complex and time consuming for workers. Each file in the system can have different recording requirements due to regulations. Matrix contains all ministry forms, program forms (PRIDE, SAFE, ONLAC, Supplementary Tools, etc.), legacy system forms (IFR) as well as many others. Matrix also supports agency specific forms to cover unique services and programs offered at an agency or to supplement standard recording practices. Matrix Forms support field mapping which allows the system to pre-fill form fields with information that has been previously collected in the case file saving workers unnecessary data entry. Additionally, workers can upload\attach any electronic file (MS Office documents, digital photos, digital voice recordings, scanned case notes) to a Matrix case file. For further information please review the Document Management feature section.
Approval Routing
Most case documents or forms that are completed by workers require approval usually by their direct supervisors. Matrix provides workers and supervisors a way to review, edit and communicate requirements for document approvals. For more information see the Form Approval feature section.
Case Reminders
Matrix will automatically remind workers when tasks are due such as a recording that needs to be completed on a file, the ministry may need to be contacted due to the severity of a spectrum code recorded or a home visit is required due to regulations. Case reminders are configured by administrators and add consistency and compliance to service delivery.
Case Alerts
Alerts can be placed on a family file and shared with other workers that may interact with the family. For example, a worker could indicate that the family has a large dog on the premises or a member is known to have anger management issues.
Case Notes
Case notes are details captured regarding a particular file that are useful to share with other workers or supervisors. Case notes can be captured on any file by a worker in the field using a mobile device, at the office or at home with a PC. Blank case note forms can be printed from the system with a barcode at the top of the form that contains the case file information. A worker can fill out this hardcopy form in the field or at a client location, return to the office and automatically scan into Matrix case file. Matrix Director is a software program that can read Matrix barcodes and determine what file the scanned document belongs with. Director will also convert the document to PDF format and move it to the appropriate case file automatically. For more information see the Case Notes feature section.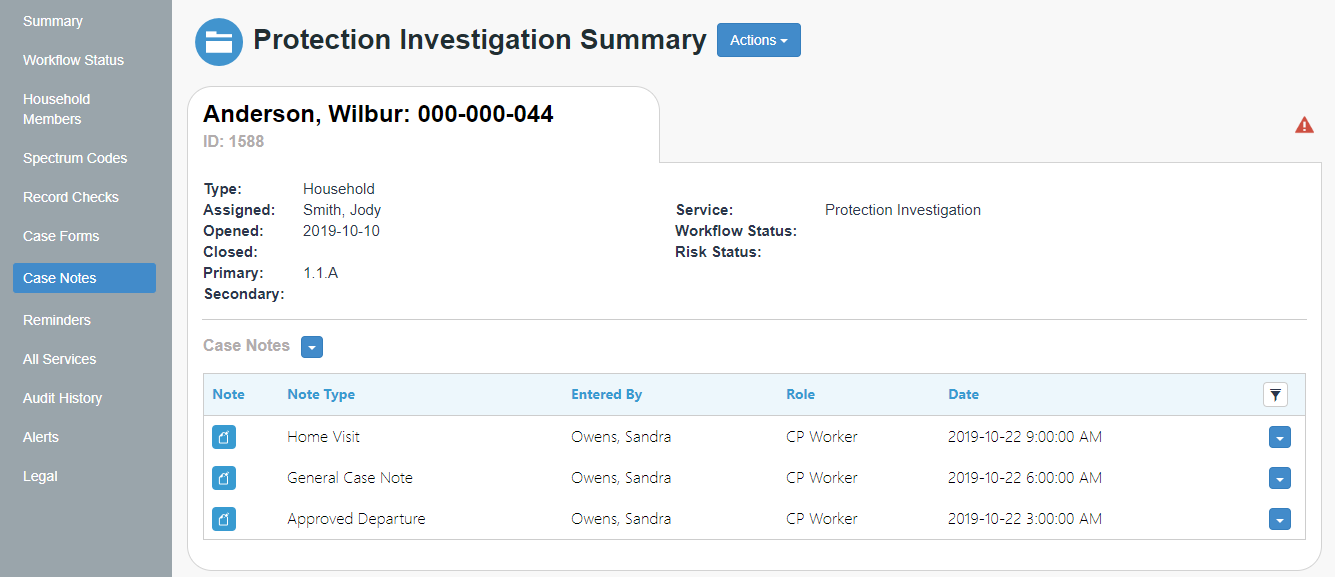 Case Client Time
Time can be tracked by client by service in Matrix. Client service time reports are also available.
Case Audits
Robust file auditing capabilities are available in Matrix system. For more information see the Case Audits feature section.
Case Compliance
Matrix has several compliance features that help to simply determining whether or not a file meets the criteria for compliance. The compliance features are designed to streamline the extraction of information from files and to grade accordingly based on the analysis. The compliance features in Matrix are very powerful and flexible. For more information see the Compliance feature section.
Case Reports
Aggregate and detailed case reports are available for all departments. For more information regarding reports see the Integrated Reporting feature section.