The legal department is responsible for managing legal requirements including file creation, logging legal activities, documentation, legal status, court appearances, orders, witness letters, exhibits and dockets for family and child files. Legal workers collect information pertaining to legal appearances, orders and tasks that occur.
Legal Module Features In Matrix
There are several features in the system that will help legal workers to effectively use the system and collaborate as required:
Diarizing Legal Activity
Masquing Legal Documents
Legal Appointments And Tasks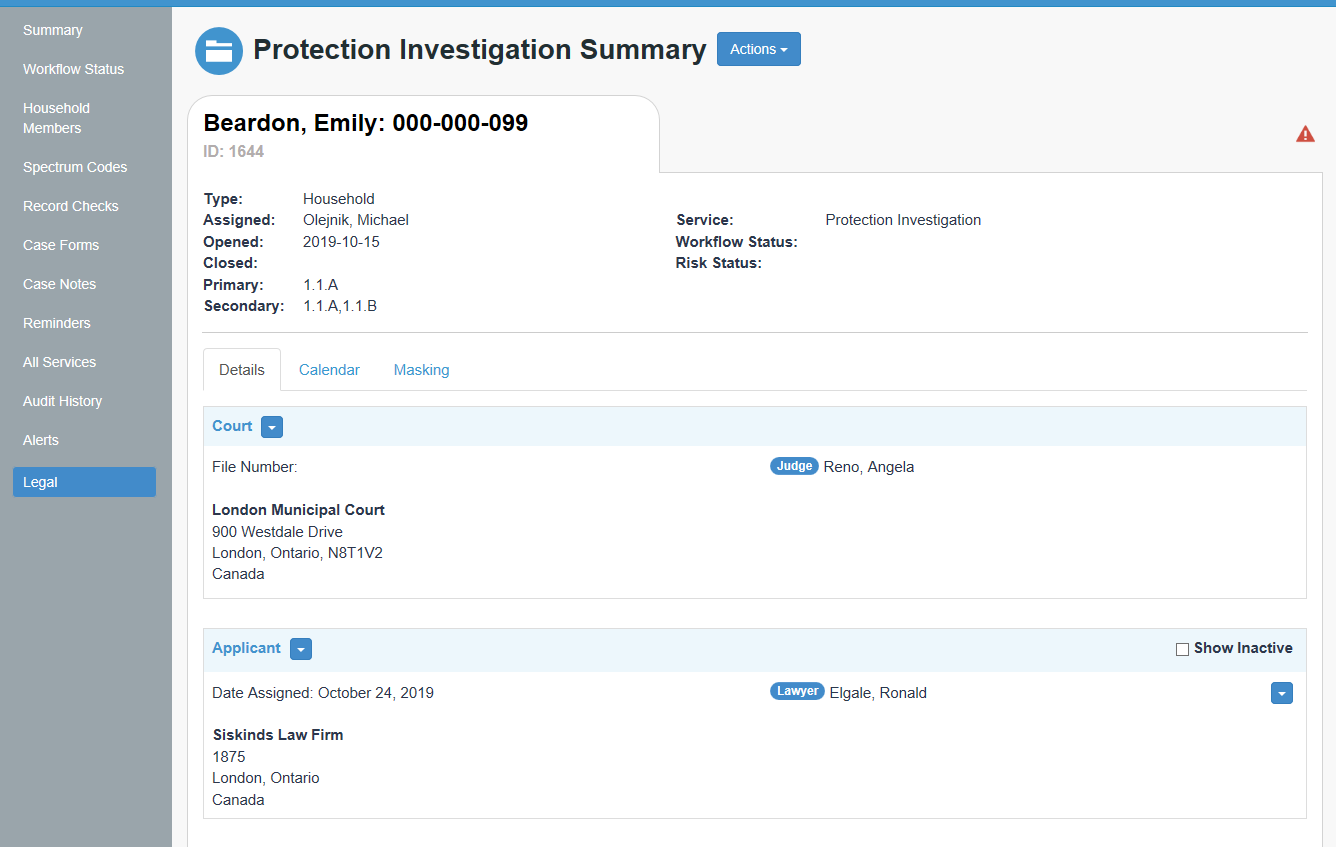 Diarizing Legal Activity
When a new appearance is scheduled, the legal worker can enter the appearance into Matrix system. The information includes dates and times for appearance, a reminder for the case worker, the court where the appearance would be, a reason for the appearance, the lawyer that will be involved, and also, whether the endorsement was received after the appearance.
The diarizing also tracks any orders as a result of the appearance. The legal worker can review appearances and add the orders as required. Workers can complete a court interaction with just the click of a button. Orders can take the form of tasks or forms that another worker needs to perform.
Masquing Legal Documents
Matrix application has the ability to masque certain legal form fields or paragraphs to protect the confidentiality of the clients when going to court. Information that is to be held in privilege can be entered into Matrix application as either a field (e.g. phone number) or a paragraph. When displaying or printing the forms, the masque can be applied to documents being displayed or printed. Matrix application will store the library of masque words/paragraphs and items can be added at any time.
Legal Appointments And Tasks
The entire legal lifecycle of a case can be tracked including case conferences, adjournments, and hearings. Matrix allows all workers to know precisely when court appearances are scheduled. These appointments appear in case summary screens as reminders. Legal information is available at a glance. The calendar displays all diary entries, appointments, reminders and tasks. The information can be filtered as required.